An Eternally Irish resting place...

Create Account
Subscription › Eternal Memorial
Eternally Irish will create a memory that is unique to you, your family and your loved one. We will personally arrange to collect the ashes of your loved one from any location worldwide. We will then repatriate your loved one's ashes to Ireland where a selection of ceremonies are available (See below).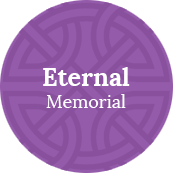 Eternal Memorial repatriation & ceremony options:
Repatriate your loved one to our remembrance garden
Repatriate your loved one to a family burial plot anywhere in Ireland
Repatriate your loved one dispersing their ashes at any location in Ireland
Repatriate your loved one interring their ashes in our remembrance columbarium walls
Provision of a religious attendance at any of the chosen repatriation ceremonies

All of our services are photographed or video recorded for your memories. This provides you and your family with the most incredible personalisation of your loved one's repatriation. You will also enjoy all the features of the premium subscription which allows you to create an online memorial for your loved one.
Contact us to find out more about our exclusive 'Eternal Memorial'.
If you would like more information about our 'Eternal Memorial' email us on info@eternallyirish.com and we will be in touch...